By road Take the A830 "Road to the Isles" from Fort William, a distance of 42 miles. Allow at least an hour. Once you reach Mallaig there is plenty of parking available (though some with restrictions).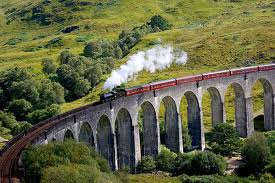 By rail If travelling from London the overnight sleeper to Fort William is one option. All trains to Fort William and Mallaig run from Glasgow. The scenic West Highland Line was recently voted top rail journey in the world for three years running!

For nostalgic fun you may want to take the "Jacobite" steam locomotive (of Harry Potter fame) from Fort William.
... and then from Mallaig to Knoydart
There is no road in, so getting to Knoydart involves either a lengthy walk (20 miles from Kinlochhourn being one popular option for the fit and well-prepared) or a short ferry ride using one of the local boats out of Mallaig.

For a faster crossing to suit your own schedule, contact one of our local boat companies based in Inverie.